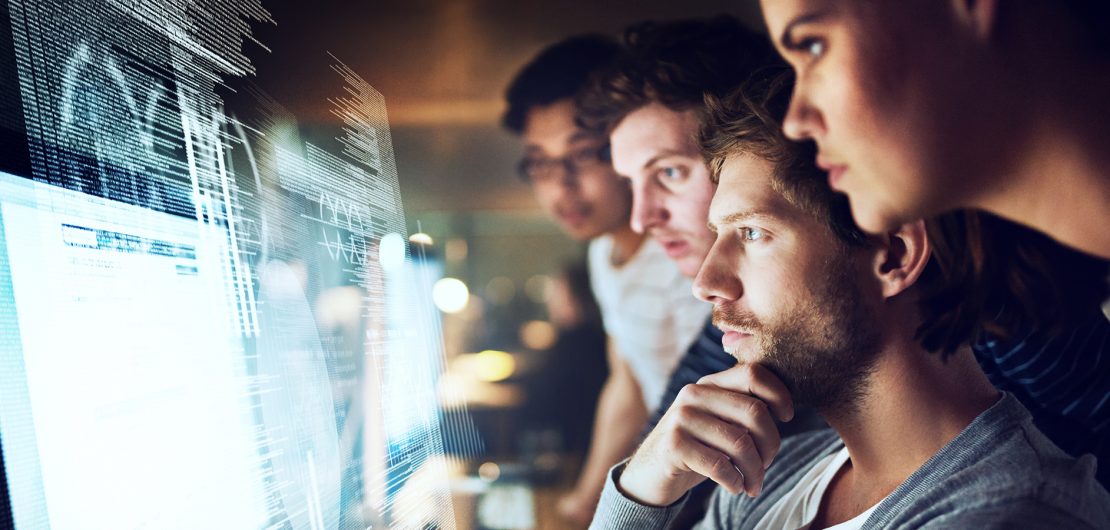 The highly interdisciplinary nature of electronics requires a broad scientific and technical expertise right from the first level Laurea degree (i.e., the B.S.E.E.), so to allow both an effective transition toward the professional world already after the three-year study programme, and an in-dept know-how and specialization during the higher levels of university courses.
In order to meet these educational needs, the Electronics Engineering Study Programme is based on three levels: a first level, three-year, Laurea (Bachelor of Science) degree with training aimed at acquiring robust fundamentals; a second-level, two-year Laurea Magistrale (Master of Science) degree with more specialized subjects and in-depth understanding; and an optional third level, two-year Research Doctorate (Ph.D.) for top-level research.
Regarding the three-year Laurea in Electronics Engineering (B.S.E.E.), the first semesters focus on the "basic" subjects (math, classical and modern physics, molecular chemistry and programming), in which the student acquires the essential elements of scientific disciplines that constitute the necessary fundamentals of engineering studies. The following semesters are dedicated to more specific "core" courses on electronics and design methodologies (analogue electronics, digital electronic systems, microelectronic devices, solid-state electronics, optoelectronics, sensors and electronic instrumentation, microcontrollers). During the same semesters, the electronics understanding is accompanied and completed by the study of the fundamentals of other "side" disciplines of Information and Communication Technology (ICT), such as automation, telecommunications and computer science, with the aim of acquiring a solid and broad preparation also across diversified application areas. 
In the last semester of the three year Laurea, students who do not intend to continue their studies can opt for an internship at one of the many companies in the electronics field, in order to acquire specific professional skills in view of the transition to the job market.
Teaching methods and exam verifications contribute to an educational growth not only limited to scientific and technical knowledge, obviously fundamental and essential. Formation is indeed also aimed at consolidating in the student more general cognitive skills, such as autonomous understanding and study (necessary to keep up to date the knowledge in a constantly evolving field), written and oral communication skills in support of teamwork activities, and the development of smart problem solving attitude through their decomposition and modelling.
Role of the electrical engineer
The Bachelor's degree Electronics engineer is characterized by a robust technical background and has an in-depth overview of electronic devices, circuits, and systems. This allows the engineer to access the professional world with adequate methodological and operational knowledge, so to operate with competence and professionalism in many areas of use even of complex electronic systems.
The graduate in Electronics Engineering has in fact acquired a broad base of scientific, technological and engineering knowledge and a thorough preparation across the typical disciplines of electronics engineering. 
Graduates have acquired also an operational training, which allows them to employ electronic devices and systems in various areas of application, from electronic controls of industrial machineries to telecommunications, from sensors to electronic instrumentation.
The Laurea Degree in Electronics Engineering allows access – after passing a state exam – to Section B of the Register of Engineers – information sector, with the title of Junior Information Engineer.
Acquired skills
The graduate in Electronics Engineering will acquire solid specific skills for:
using electronic devices and components together with proper design methodologies (use of CAD tools) to create basic electronic circuits for applications in the fields of computing, telecommunications, automation and other related sectors;
exploiting microelectronic devices and technologies for the exploitation of sensors and actuators;
defining the functionality of a system, assessing performance and overall costs, by means of basic circuital blocks;
verifying and testing the instrumentation for electronic measurements, checking compliance with specifications;
managing the production and installation of an electronic system;
implementing and monitoring the quality control of processes and products;
evaluating the aspects of reliability, maintenance, performance assessment, energy consumption, related to electronic components technologies (in particular, boards and complex equipment);
configuring programmable electronic devices;
assisting and maintaining electronic equipment and programmable electronic systems, with respect to manufacturing technology, component characteristics, measuring equipment, and control software;
collaborating in the design, prototyping, and production of an electronic system or apparatus;
selecting the basic electronic components and subsystems based on the best trade-off between costs and performance;
using laboratory equipment and design software.